June 7, 2014: Munchkin Zombies Deluxe Available At Barnes & Noble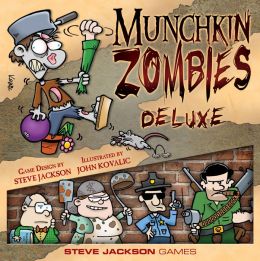 If you haven't had the chance to get into Munchkin Zombies yet, or you'd like to get a set for a friend, we've partnered with our friends at Barnes and Noble to give you something cool: Munchkin Zombies Deluxe, which includes six colored zombie pawns and a Zombies-themed game board.
Also, if you've already got Munchkin Zombies (thanks; you're awesome!) and you like the idea of a Zombies-themed board, keep an eye out for the upcoming Munchkin Board of Health -- it's got a Zombies-themed board on one side, and a Cthulhu-themed board on the other. Because that's a safe combination and all.
Share this post!