June 25, 2020: Uncover The Truth And Level Up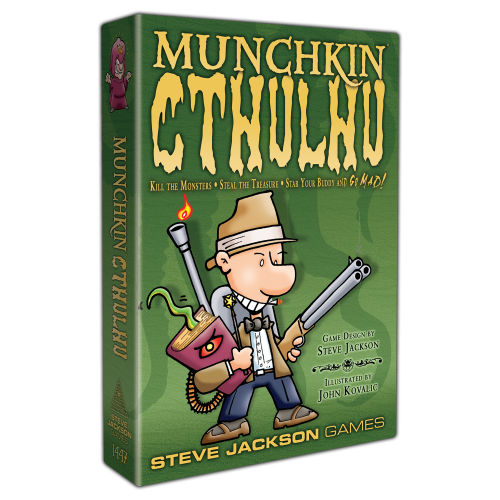 We aren't claiming that Munchkin Cthulhu hides secrets that weird otherworldly creatures would kill to protect . . . but we aren't NOT claiming that. You may want to pick up a collection of these games and expansions for research purposes at your Friendly Local Game Store or on Warehouse 23. Better safe than sorry!
Start with the original Munchkin Cthulhu game illustrated by John Kovalic (or its weirdly kawaii Guest Artist Edition, drawn by Katie Cook). After that, take a jaunt in the country with Call of Cowthulhu (in very short supply!), explore a weird alternate universe (even by Munchkin standards) with Goomi's The Unspeakable Vault, and then do your own deep exploration into the Crazed Caverns. And if you haven't already received your Sanity Check through our multidimensional Kickstarter, you can add this mini-expansion to your collection of lore now.
Disclaimer: Steve Jackson Games takes no responsibility for damage to life, limb, or sanity as a result of collecting and playing Munchkin Cthulhu.
Share this post!