Report to the Stakeholders for 2018
by Phil Reed, Chief Executive Officer
Steve Jackson Games has one stockholder: Steve. But many people have a stake in our success. Our STAKEholders are our employees, our distributors and retailers, and, of course, the people who play our games . . . as well as the freelance artists and designers who create the finished product, the volunteers who demonstrate our games at conventions and retail stores, and the folks who run game conventions.
Overview
We are, I assume the reader knows, a publisher of games. We have been in business since 1980. At the end of 2018, we had 30 full-time staff and contractors, plus a few part-timers. Most of our line consists of card games, boardgames, dice games, and RPGs. We sell through hobby distribution, the mass market, and direct sales (Warehouse 23, our online store, has been online for two decades) – both physical products and digital downloads.
2018: Executive Summary
Last year, we had hoped that 2018 would be a better year than 2017. As written last year, perhaps "not in a financial sense – the market is weird right now, and predicting sales is tougher than ever – but at least from a completing projects and meeting deadlines standpoint . . . " In this, I think that we were correct; we shipped two big projects to the factory in 2018 – The Fantasy Trip Legacy Edition and Munchkin Warhammer 40,000 – and both reached stores on schedule earlier this year.
Gross income was roughly $5.3 million, down a few hundred thousand from 2017. A combination of staff cuts, reducing our print runs to better suit the current market, and a focus in the second half of the year on our more successful titles put us in a stronger position at the end of the year than expected.
In 2018, crowdfunding (Kickstarter, plus BackerKit for project surveys) was a larger and more significant part of our business than in earlier years. And as we watch the distribution network continue to transform, with shorter sales windows for new products, we direct more of our energy to Kickstarter where we can judge demand for a title before taking the finished work to print.
Meeting deadlines continues to be a challenge, though we did better in 2018 than in the few years before that. Part of the reason our schedule sometimes slips is our (at times) overworked staff. The most significant obstacle, though, is our insistence on getting it right over getting it done. As Shigeru Miyamoto says, "A delayed game is eventually good, but a rushed game is forever bad."
Yet again in 2018, our cash flow report saved us from potential disaster. As a rule, we do not take outside loans and operate solely on the strength of our cash-in-hand, and the regular cash flow report – as well as the willingness of our accounting team to speak up when they notice something important – is vital to our operations.
2018: The High Points
With over $300,000 in funding (and another $150,000+ during the BackerKit stage of the project), your support of The Fantasy Trip was overwhelming and very much appreciated by all of us in the office. When we announced in late 2017 that Steve had recovered the rights to the game, the response was positive and encouraging, but we had no way of knowing how many of you would then join us to make the game our most successful crowdfunding project of the year.
The Fantasy Trip went to print on schedule, started shipping to Kickstarter supporters in March 2019, and reached store shelves on schedule in April.
Better still, we've already run two more crowdfunding campaigns to support TFT (both of which are at print and on schedule), and we have a third campaign launching on Kickstarter before the end of this month. With your continued support, we'll build on the success of The Fantasy Trip Legacy Edition and bring more TFT expansions, adventures, and accessories to your table.
Between new releases – from our team as well as our partners at IDW and USAopoly – and the launch of the Munchkin Collectible Card Game, the Munchkin series had an incredible year! Here are a few of this year's highlights:
Kickstarter
As the market changes, we are realizing that our traditional approach to publishing is a little old-fashioned. In 2018, we took steps to improve our use of crowdfunding, experimenting with games, expansions, and even game accessories to learn how we can better use Kickstarter to judge demand for an item and to make some titles much stronger than they would have been without your support.
We ran nine different campaigns on Kickstarter in 2018:
Combined (Kickstarter + BackerKit), our crowdfunding efforts in 2018 generated over $800,000. Thank you, everyone!
As a part of adapting to the new world, we worked with the Kickstarter team to open a second account in late 2018. Our two accounts (and the purpose of each) are:
Steve Jackson Games, where we run projects that we plan to eventually take into distribution.
Warehouse 23, for those campaigns where the end result is not scheduled for release outside of Kickstarter, Warehouse 23, and other direct sales channels.
Other Great Things
Triplanetary. First published in 1973, Steve Jackson Games acquired the rights to Triplanetary in 1991 . . . and we published the game last year! As our first Kickstarter project of 2018, this was a relatively small project that funded and was, in every way, a complete success. We are completely sold out of Triplanetary; if there's a reprint, it will be in association with an expansion and both will be crowdfunded together.
Munchkin Collectible Card Game. The game's strong launch in the hobby, combined with steady release of expansions throughout 2018, made this one of our top sellers and accounted for 14% of our revenue. A strong fan response, especially from those who have been wanting a two-player Munchkin experience, was particularly gratifying.
Ogre. Our line editor, Drew Metzger, works closely with Steve to keep the game active; we've published more Ogre support in the last year than we have in a long time. The Ogre playmats – currently available at Warehouse 23 as well as for pre-order in the Pocket Box project – were a surprise hit; we started 2018 with zero Ogre playmats and, as of this moment, have seven different designs. And based on your response, more to come!
Ehhhhh . . .
These were places where we wanted a win and didn't quite get one, or where success and failure were mixed.
Blob Lobber. Adorable. Plays fast. Inexpensive. Great for kids. Unfortunately, what should have been a strong holiday seller had a less-than-hoped-for launch and never quite found an audience. The game is fun, came together smoothly, and didn't eat a lot of staff time, but the soft sales mark it as a bit of a disappointment.
GURPS On Demand. We put quite a bit of time into this program in 2018, with over a dozen GURPS titles released as print-on-demand books during the year. The number of each that needs to sell is higher than we would like, especially since some of the books have yet to recover the costs to prepare them for POD sale. We'll review the program and then decide what happens next.
Failures
Munchkin Collectible Card Game. Despite the strong sales of the core game and the first expansion, the expense of creating the game was too great to justify taking the second core set (fully written, and paused before art and layout) to the finish line. Additionally, we – I – made a serious blunder in listening to initial feedback and reprinting the game. Yet again, we transformed profits into inventory. Lesson learned? We hope so. We would like to bring the new, already-designed cards to the market, but we have to find a way to do it that builds on the quality of the existing card sets and doesn't prevent us from finishing other projects.
Munchkin Magical Mess. A victim of the "new for only a few weeks" attitude of the market, this stand-alone set sold fewer copies than we had expected. One unexpected benefit of distributors and retailers ordering less: The online price of the title has remained at a reasonable level and we continue to sell the game on Warehouse 23. How many Munchkin fans never saw this in their local store? From what we can tell by the direct sales numbers, the answer is "a lot." How many do we have for direct sale? Again, the answer is "a lot."
Staff
In July, we announced that we were shifting our focus and taking the steps necessary to distance our operations from the industry's accelerating treadmill model for new releases. As we stated in last year's report: "The current market is more a periodicals business than one that encourages growing and nurturing single games . . ." and things only got worse throughout 2018 as fewer and fewer copies of new titles were sold into distribution. This is an industry-wide issue; we've discussed the problem with several of our friends, and most of us are watching as demand for new games continues to drop.
As part of the change, we were forced to let some talented and hardworking staff go. Additionally, we announced to our team that any who wanted to search for a new position elsewhere would be given the support (and recommendation letters) that they requested. It was sad to see so many capable employees move on, but we're happy to see them continue to improve their skills and industry knowledge with other publishers.
The good news is that, even though we are short-handed at times, our staff has come together and we're a stronger company than we were at the start of 2018. Communications have improved, we're seeing fewer tasks fall between the cracks, and some departments are more effective than they were with larger teams.
State of the Industry
If 2017 was the year for new games, 2018 was the bigger, louder sequel. Thousands of new titles were released in 2018, with some coming and going so fast that even professionals missed the release. Many of those games got pushed to the clearance racks faster than ever before; during the winter holiday sales, some games released as recently as September were already on deep discount.
Asmodee continued to acquire parts of the industry as they seek to "collect 'em all" and cement their position as the entire hobby game market. At the same time, Asmodee itself was sold to a French private equity fund.
Z-Man Games (part of Asmodee) acquired Love Letter from AEG. Love Letter, you may remember, was the basis for AEG's Munchkin Loot Letter game published a few years ago.
GAMA successfully moved the annual trade show into Reno, with attendance actually climbing over that of the previous year's show in Vegas. Congrats, Team GAMA!
Shared Goals and Partners
The game business is a network, and the healthier it is, the better for all of us. SJ Games continues to value, and rely on, its hobby-industry partners. These include:
the hobby-game retailers, who provide gamers with space to play our games;
PSI, our fulfillment agent for most distributor sales;
Surge, our licensing agent, and our licensing partners;
the many overseas publishers who are translating Munchkin and other games;
the convention organizers who showcase our work, and the dedicated hobbyists who serve as Men in Black to demonstrate our games at retail stores and conventions;
GPI, which does most of our manufacturing;
and the publishers, small and large, who distribute their digital products through Warehouse 23.
Priorities: 2018 Report Card
"Support the new Munchkin Collectible Card Game with in-store events and online marketing, and release the core game and three expansion sets before the close of the year." Success! Our staff ran several in-store events in January and February, we offered multiple kits to retailers for more in-store events, and we even ran large demo events at Origins and Gen Con. Additionally, the core set launched on schedule and we followed up with three expansion sets before the end of 2018. A series of wins that would have never happened without the work of our team, the artists and game developers, and our distributor and retailer partners. Thank you, everyone!
"Complete the recent Kickstarter commitments by delivering Ogre Miniatures Set 2, Munchkin Starfinder, Triplanetary, and Conspiracy Theory to supporters before the end of the year (and as close to on-schedule as we can manage)." Partial success. Ogre Miniatures Set 2 shipped later than we had estimated (plastic minis are an area where we're still learning), but all of the others were on time or even early. Wins all around!
"Maintain support of the original Munchkin games with a new tuckbox expansion set and two or three new base games." Success! We shipped Munchkin 9 – Jurassic Snark (112-card tuckbox expansion), Munchkin Magical Mess and Munchkin Starfinder (two new base games), as well as a handful of small tuckbox sets (Munchkin Cheats, Munchkin Fowl Play, Munchkin Side Quests, and Munchkin: The Red Dragon Inn) all in 2018.
"Launch and bring to a successful close the Kickstarter project for the new edition of Car Wars, with the game set for release to project backers in 2019 or 2020." Our only failed priority in 2018, but this was a case where we deliberately hit the brakes rather than rush the game. And we have not stopped work; see below.
Priorities for 2019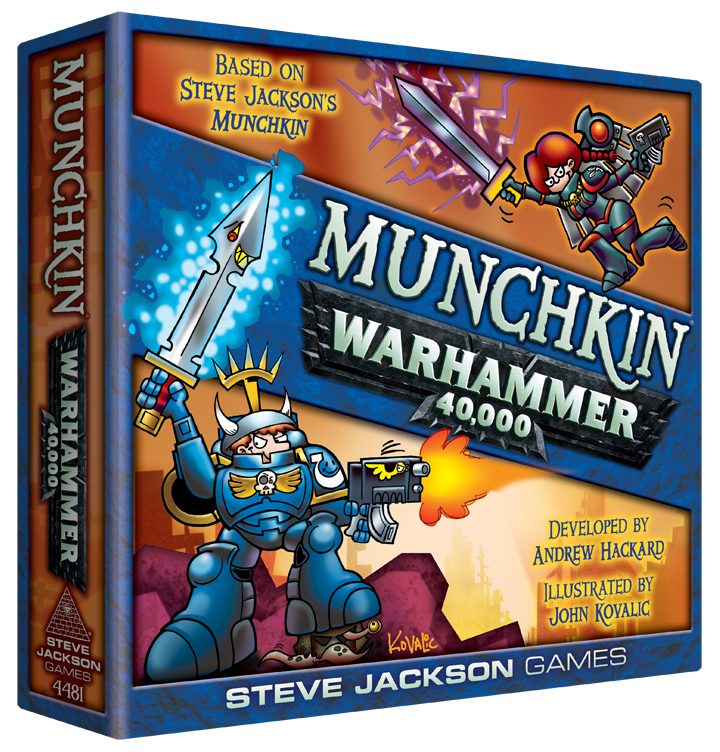 We accomplished three of our four 2018 priorities, so this year we'll set only three priorities and see how well we do. Wish us luck!
Complete and deliver all Kickstarter projects, as close to on schedule as we can manage, while maintaining clear and constant communication with the project backers. One of our largest Kickstarters this year, the Pocket Box campaign, is moving forward quickly because of what we've done here and what the factory is doing on their end: scanning and preparing all of the titles for manufacturing. It's incredibly hard, time-consuming work and they're doing an amazing job.
Bring the Munchkin Warhammer 40,000 game and expansions to retail release on schedule and support the line with new promos, events, and convention demos.
Continue to improve on our Kickstarter efforts by successfully launching Car Wars Sixth Edition (which is still moving forward), support for The Fantasy Trip with new adventures and expansions, some small Munchkin projects, new coins, a second GURPS project (following the first of the year, Dungeon Fantasy Monsters 2, that is now up for preorder on BackerKit), as well as some other ideas that we're not yet ready to reveal.
Adapting To A New World
Over the last few years, our core hobby market has changed dramatically. The old tools and procedures we used to calculate print runs, the resources we turned to when determining which new games to print, as well as the majority of practices we followed to function within the market . . . all are less applicable today than they were in 2015 or earlier. We are doing our best to adjust so we can keep bringing you great new games.
– Phil Reed
NOTE: Munchkin Deluxe appears three times in our top 40. We produced a special run of the game at the factory that included CCG booster packs and marketing, and a special assembly for the book trade. The core game is identical in all three instances; only the bonus items and marketing material are different across the three variations.
Forum discussion of the Stakeholders' Reports
Other Reports: 2022 • 2021 • 2020 • 2019 • 2018 • 2017 • 2016 • 2015 • 2014 • 2013 • 2012 • 2011 • 2010 • 2009 • 2008 • 2007 • 2006 • 2005 • 2004 • 2003