Report to the Stakeholders for 2019
by Phil Reed, Chief Executive Officer
Steve Jackson Games has one stockholder: Steve. But many people have a stake in our success. Our STAKEholders are our employees, our distributors and retailers, and, of course, the people who play our games . . . as well as the freelance artists and designers who create the finished product, the volunteers who demonstrate our games at conventions and retail stores, and the folks who run game conventions.
Overview
We are, I assume the reader knows, a publisher of games. We have been in business since 1980. At the end of 2019, we had 29 full-time staff and contractors, plus a few part-timers. Most of our line consists of card games, boardgames, dice games, and RPGs. We sell through hobby distribution, the mass market, and direct sales (Warehouse 23, our online store, has been online for two decades) – both physical products and digital downloads.
2019: Executive Summary
2019 was another year of keeping up with deadlines and balancing the need to print against the need to not be overstocked. Our small team managed to release over two dozen new print products in 2019, as well as a lot of reprints. On top of that, a good chunk of our creative staff was focused on Car Wars Sixth Edition for a lot of the year, a game we will not officially ship to distributors until the Car Wars 40th anniversary in 2021.
Gross income was roughly $4.4 million, down a little less than one million from 2018. Our cautious approach to the market and our print runs meant more out-of-stock times for our top-selling titles, which had a negative impact on overall revenue. Fortunately, our caution also helped us when it came to inventory levels, so we managed to show a small profit for the year.
Predicting the current market is proving to be a serious challenge. For some titles, where we were conservative in our print runs – such as Deadly Doodles and several different Munchkin reprints – we didn't have enough inventory to cover demand, which meant we left money on the table. The danger with a quick reprint is that by the time the next printing reaches the warehouse – which could take anywhere from three to five months – there's a chance that the demand has vanished, especially in a market flooded with new titles every week, and then we're stuck with inventory. We'll try to forecast demand better this year, but we will continue to err on the side of caution.
2019: The High Points
The Fantasy Trip
Generating over $450,000 in funding in 2018 (between the Kickstarter campaign and BackerKit survey), The Fantasy Trip Legacy Edition shipped in March of 2019, and we released the game to distributors later in the spring. The finished product turned out great, and many of the project backers were stunned at the size and value of the completed package.
We continued supporting The Fantasy Trip in 2019 with four Kickstarter campaigns: Adventures, Hexagram #1, Decks of Destiny, and Hexagram #3. All four of these have shipped to backers, and the Decks of Destiny box set was just as massive and incredible as the Legacy Edition game.
The Fantasy Trip has been a success for us. We will continue to support the game with new releases in 2020.
Munchkin
Our top-selling game line had another fabulous year, with new core sets, several expansions, and even two crowdfunding campaigns. Here are a few of the year's highlights: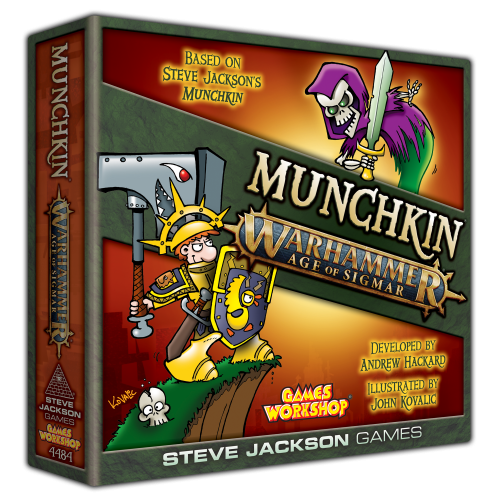 Crowdfunding
In 2019, we successfully shifted a greater percentage of our efforts to crowdfunding. Our campaigns in 2019 generated over $1,000,000 in funding across all platforms and accounts, an increase of roughly 30% over 2018. Best of all, that number does not include the $600,000+ that backers pledged to the Car Wars Sixth Edition campaign on Kickstarter that launched in 2019 and closed in 2020!
We closed a total of 12 crowdfunding campaigns in 2019, across three different accounts (Steve Jackson Games Kickstarter, Warehouse 23 Kickstarter, and Steve Jackson Games Indiegogo). So far:
When it comes to crowdfunding, we still have one significant weakness that requires attention: international fulfillment. We're a small company, with limited resources, and we continue to investigate options for shipping rewards outside the United States that reduce the cost to backers and give us more control as games move from our hands to yours. We've made improvements in this area, but we would very much like to get even better at delivering international rewards.
We will continue to make crowdfunding an important part of our operations in 2020. With that in mind, our three crowdfunding accounts (and the purpose for each) are:
Other Great Things
Ehhhhh . . .
These were places where we wanted a win and didn't quite get one, or where success and failure were mixed.
Failures
Staff
Our creative staff continues to work hard, producing new games and expansions that are the most important part of our business. Our production department gets a special mention here for their efforts; they are often asked to complete projects quickly and they manage to maintain the quality we demand while delivering their work on (or ahead!) of schedule. Of particular note is Sabrina Gonzalez, our production manager, who personally checks 99% of the printer samples and works long hours making sure everything is as close to perfect as it can be.
Our business office, under the guidance of Lisa Villaire, is in better shape than ever. Lisa joined us in 2018 and has become an invaluable member of the team. As an example of "the game industry is a small club," Lisa came our way thanks to a recommendation from our friends at Cryptozoic. Thank you, Crypto, for helping us to add someone who has made such dramatic changes – for the better! – to our operations.
For now, our staff is lean and we're looking to keep things that way. We prefer to produce fewer games and stay small in today's market. At times, some of our team are asked to pitch in on tasks outside of their department, everyone is always ready to help the others as best they can.
State of the Industry
Shared Goals and Partners
The game business is a network, and the healthier it is, the better for all of us. SJ Games continues to value, and rely on, its hobby-industry partners. These include:
Priorities: 2019 Report Card
Complete and deliver all Kickstarter projects, as close to on schedule as we can manage, while maintaining clear and constant communication with the project backers. One of our largest Kickstarters this year, the Pocket Box campaign, is moving forward quickly because of what we've done here and what the factory is doing on their end: scanning and preparing all of the titles for manufacturing. It's incredibly hard, time-consuming work and they're doing an amazing job. Mixed success. Many of the projects were delivered to U.S. backers on schedule or even ahead of schedule, but international fulfillment continues to be a struggle. Additionally, the Pocket Box project was late. It was bigger and more complicated than we expected, but we did keep in constant communication with the backers so that they knew about the delays and how we were resolving the issues. If it's a choice between getting it on time and getting it right, we'll always choose to get it right – but both would be better!

Bring the Munchkin Warhammer 40,000 game and expansions to retail release on schedule and support the line with new promos, events, and convention demos. A success! The game shipped, the two expansions and two accessories were released on schedule, and the game did very well in the market. It is proving difficult to keep it in stock, but we're working on keeping the reprints flowing.

Continue to improve on our Kickstarter efforts by successfully launching Car Wars Sixth Edition (which is still moving forward), support for The Fantasy Trip with new adventures and expansions, some small Munchkin projects, new coins, a second GURPS project (following the first of the year, Dungeon Fantasy Monsters 2, that is now up for preorder on BackerKit), as well as some other ideas that we're not yet ready to reveal. Very much a success! The Car Wars Sixth Edition campaign was launched before the end of the year (and closed in January). We didn't run a second coins campaign in 2019, but we did produce the Cthulhu Coins and released them on Warehouse 23. We even managed to run a second GURPS campaign following the success of the Dungeon Fantasy Monsters 2 project.
Priorities for 2020
While our performance on the 2019 priorities was mixed, we were successful overall and we certainly learned a lot from the areas where we weren't as on top of things as we would have liked. With that in mind, we're setting only three priorities for this year:
Complete and deliver Car Wars Sixth Edition. The Kickstarter campaign was a success, and now it is our job to build on that success by delivering the completed project on schedule. Sam, Randy, Sabrina, Gabby, and Ben are carrying the greatest amount of the load, and everything is still on track. We will post regular updates to the Kickstarter page throughout the year; that way, backers are kept informed of our progress and we can minimize any surprises that may pop up.

Support Munchkin. After more than 18 years, this is still our top-selling game and the line that demands the most attention. We plan to release two new core sets in 2020, one of which is already at print, as well as more expansions for Munchkin Warhammer 40,000 and Munchkin Warhammer Age of Sigmar and some other surprises later this year. We also plan to run at least two Kickstarter campaigns for Munchkin in 2020; we just have to find the bandwidth to make these happen.

Support The Fantasy Trip. Steve shared a status report on the line at thefantasytrip.game last month, and his report is your best roadmap to our 2020 plans for The Fantasy Trip. This year, we'll aim for as many Kickstarter campaigns for the game as we ran in 2019 (four), though each will be a smaller project – nothing the size of the Legacy Edition or Decks of Destiny. Instead, this will be a year of new books and fewer counters, cards, playmats, and other accessories.
Forty Years of Steve Jackson Games
2020 marks the 40th anniversary of Steve Jackson Games, making it the perfect year for projects like the Pocket Box and Car Wars Sixth Edition to reach our long-time fans. As part of the celebration of forty years, we're also planning to keep GURPS support humming along, as well as to start preparing for 2021 and the 20th anniversary of our top-selling game line, Munchkin!
Please check the Daily Illuminator for the latest news. And follow us on Facebook and Twitter so that you don't miss any of our newest games, including the return of more classics from the past.
Forum discussion of the Stakeholders' Reports
Other Reports: 2022 • 2021 • 2020 • 2019 • 2018 • 2017 • 2016 • 2015 • 2014 • 2013 • 2012 • 2011 • 2010 • 2009 • 2008 • 2007 • 2006 • 2005 • 2004 • 2003