Report to the Stakeholders for 2020
by Phil Reed, Chief Executive Officer
Steve Jackson Games has one stockholder: Steve. But many people have a stake in our success. Our STAKEholders are our employees, our distributors and retailers, and, of course, the people who play our games . . . as well as the freelance artists and designers who create the finished product, the volunteers who demonstrate our games at conventions and retail stores, and the folks who run game conventions.
Overview
We are, I assume the reader knows, a publisher of games. We have been in business since 1980. At the end of 2020, we had 29 full-time staff and contractors, plus a few part-timers. Most of our line consists of card games, boardgames, dice games, and RPGs. We sell through hobby distribution, the mass market, and direct sales (Warehouse 23, our online store, has been online for two decades) – both physical products and digital downloads.
2020: Executive Summary
Despite the year being such a . . . 2020, I am proud to report that our team powered through, and we kept the business running without the need to lay off staff.
Gross income was roughly $4 million, down slightly from 2019. (See last year's report for more info.) Considering the world's state in 2020 and the fact we remained profitable, that's a huge win. We couldn't have done this without the support of our staff and every single one of you who play our games.
2020: The High Points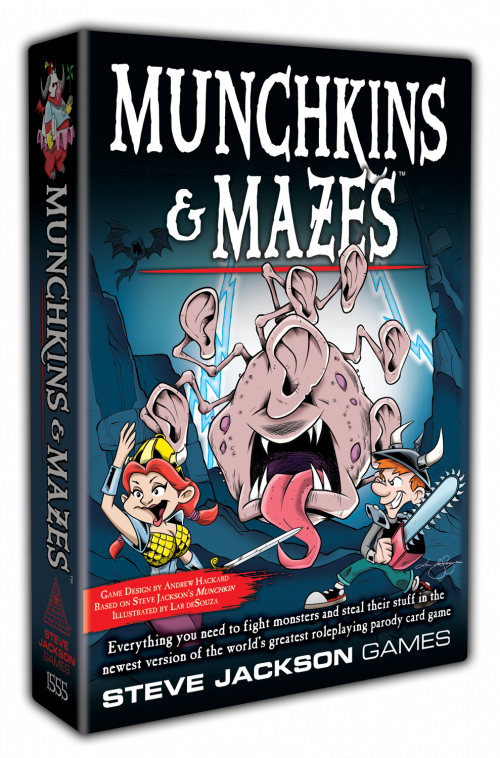 Evergreens for the Win
As the world collapsed under a global pandemic and our routines were devastated, we were fortunate that our evergreen titles – those games that sell year after year after year – held their sales strength and, in some cases, even saw a spike. Reviewing the numbers, new titles in 2020 accounted for less than 30% of our overall revenue; those evergreen games keep the lights on and the doors open.
Munchkin
As always for almost two decades, Munchkin was a powerhouse. We had two new core sets in 2020 – Munchkin Tails and Munchkins & Mazes – and both performed well enough that reprints are at the factory and scheduled for release later this summer. If we timed everything right, the reprints will land early enough to have no interruption in supply.
In addition to those two sets, we added new expansions to the Munchkin Warhammer 40,000 and Munchkin Warhammer: Age of Sigmar lines, bringing more fun for those of you who cannot get enough of these two hits.
Car Wars
After years of work, Car Wars finally made it through the crowdfunding process and to the factory. This line has been such a massive investment in 2020 that it appears in this list multiple times, so right now let's focus on the good: The game generated over $1,000,000 in support from over 4,000 gamers (between Kickstarter and BackerKit), making it a truly epic event for our team.
Crowdfunding
As in 2019, we continued to improve our crowdfunding efforts in 2020, turning to Kickstarter, BackerKit, and Indiegogo to bring several different projects into existence. 25% of our revenue came from crowdfunding efforts, which is higher than earlier years and a trend we see continuing through at least 2021 as the world (hopefully!) starts to find its feet and return to normal.
Steve and the team have Wiz-War, GURPS Girl Genius, and some Fantasy Trip projects in line for crowdfunding efforts later this year. Please follow both the Steve Jackson Games and Warehouse 23 accounts on Kickstarter so that you don't miss out on these projects!
Other Great Things
Illuminati 2020. During the summer, Steve had an idea, and we pulled every trick in the book to get this small Illuminati expansion into your hands before 2020 came to a close. Because of content, this was produced at different locations and assembled in the office . . . just as we did decades ago! It's small (both in terms of size and impact on overall sales), but if the company owner cannot slip in a small project now and then for the fun of it, then why even have a game company, am I right?1

Our Staff. Despite the global pandemic throwing a wrench into every play, our staff adapted well and we managed to close the year with revenue close to 2019's. Better still, we were profitable and managed to give bonuses. None of this would have happened without the hard work of our talented and dedicated staff. Thank you, everyone!

Random Fun Generator. At the start of the lockdown in mid-March, we had the idea to create a book of dice games and sent Sam and Randy into the video chat mines to design, develop, and playtest 26 different games brought together as the Random Fun Generator. This project surprised us when we took it to Kickstarter and saw considerably more support and interest for the book than we expected. Close to 4,000 backers later, we're working on preparing this for a distribution release. (Not to mention a sequel.) News to come!

Dice bags.

Although the dice bags we released in 2020 weren't high dollar items, five of them made their way into our Top 40 (by quantity sold) and the bags just keep right on selling. Two of them have done so well that we're running new color variants as reprints for release this summer.
Ehhhhh . . .
These were places where we wanted a win and didn't quite get one, or where success and failure were mixed.
Car Wars Sixth Edition. Although the crowdfunding campaign in total generated over $1,000,000 in revenue (between the Kickstarter phase and the BackerKit pre-orders), the project is behind schedule. We're doing all we can to wrap everything up and ship the rewards. The pandemic has disrupted the usual process, leaving us relying on videos, photos, and calls to work through tooling and approvals. In August, we decided that it was better to delay delivery than to rush the game, and we are now officially in the manufacturing stage. We expect to deliver the game this year – the 40th anniversary of Car Wars! – but we do not yet have a date.

New games. The industry was already struggling to adapt to a periodicals model, and things got a lot more challenging for new games in 2020. While our evergreen games performed well (see above), new titles sold in very low numbers through our distribution channels. With that in mind, we've minimized our new game releases in 2021 and we're focusing on supporting success. (Munchkin, for example, gets at least one new core game later this year and maybe two. But we're not yet ready to reveal one of the titles since it's a licensed property.)
Failures
Perhaps the biggest failure of the year had to be our release schedule and shipping. The pandemic destroyed our routines when it came to creating, manufacturing, and transporting games and accessories. Too often we had no choice but to push release dates back. Even now, as this report is published, some of our (planned and announced) 2020 releases still haven't reached stores. Soon.
Staff
While our staff did an incredible job of keeping tasks and projects moving in 2020 (see above), we had one major loss that continues to impact our efforts to this day. In June, Monica Stephens – a long-time member of our staff and Steve's companion of 30 years – died of congestive heart failure as a side effect of chemotherapy. Monica's absence is still being felt, especially in our pre-mortem sessions. Her eye for detail was always an important part of achieving our desire to publish quality work.
State of the Industry
Virtual Conventions. As in-person conventions came to an end last March, the industry quickly shifted to online events. We took the plunge ourselves in April, holding our FnordCon convention as a Discord event that attracted over 500 attendees and taught us a lot (in a very short time!) about running a virtual con. We continue to learn and experiment; don't miss our next FnordCon coming soon! Check out the web page for more information.

Roleplaying Surge. We've watched as Dungeons & Dragons grew in popularity over the last few years, and that growth has impacted the entire RPG market as new gamers explore the many offerings from publishers of all sizes. The pandemic did little to slow roleplaying, as many game groups shifted to Zoom or used virtual tabletop software to keep the sessions going. ICV2 shares details on Wizards of the Coast in this article, including that D&D saw a staggering 33% increase in revenue. Tabletop RPGs are bigger than ever before!

Survival. Fortunately, we didn't lose any major players in the game industry in 2020. The retailers deserve a huge round of applause here, as they had to weather a horrible situation that forced many of them to learn entirely new ways of selling games almost overnight. Watching as retailers experimented with touchless delivery, online sales, and keeping their doors open despite losing their greatest advantage – in-store gaming – was incredible and we cannot wait to congratulate them once we can all get together again. (You do know where your closest game store is, right? If not, please see our store finder to find the game store in your neighborhood! Retailers, please email retailers@sjgames.com if you want to be added to the list.)
Shared Goals and Partners
The game business is a network, and the healthier it is, the better for all of us. SJ Games continues to value, and rely on, its hobby-industry partners. These include:
Priorities: 2020 Report Card
Complete and deliver Car Wars Sixth Edition. The Kickstarter campaign was a success, and now it is our job to build on that success by delivering the completed project on schedule. Sam, Randy, Sabrina, Gabby, and Ben are carrying the greatest amount of the load, and everything is still on track. We will post regular updates to the Kickstarter page throughout the year; that way, backers are kept informed of our progress, and we can minimize any surprises that may pop up. We were well on our way to make this goal, and then everything changed.

Support Munchkin. After more than 18 years, this is still our top-selling game and the line that demands the most attention. We plan to release two new core sets in 2020, one of which is already at print, as well as more expansions for Munchkin Warhammer 40,000 and Munchkin Warhammer Age of Sigmar and some other surprises later this year. We also plan to run at least two Kickstarter campaigns for Munchkin in 2020; we just have to find the bandwidth to make these happen. Another victim of the pandemic, this is a partial success (two new Munchkin games were released along with expansions) and a partial failure (we had zero Munchkin Kickstarter campaigns in 2020).

Support The Fantasy Trip. Steve shared a status report on the line at thefantasytrip.game last month, and his report is your best roadmap to our 2020 plans for The Fantasy Trip. This year, we'll aim for as many Kickstarter campaigns for the game as we ran in 2019 (four), though each will be a smaller project – nothing the size of the Legacy Edition or Decks of Destiny. Instead, this will be a year of new books and fewer counters, cards, playmats, and other accessories. Success! We ran multiple The Fantasy Trip crowdfunding campaigns in 2020. We even slipped in a few wholly unplanned and new releases for the game (such as The Infinite Arena2), each one of which added to the catalog. 2020 as a year may have been a mess, but we managed to give The Fantasy Trip the support it deserves.
Priorities for 2021
Our top priority is simply survival. No one is out of the woods yet. Due to the pandemic, shipping from Asia has become slow, unreliable, and expensive.
Our second priority is to support the evergreen titles as best we can, with promotions, marketing, and small supplementary releases that spotlight a game line or brand. Our top three lines for support in 2021 are Munchkin, The Fantasy Trip, and GURPS.
The third priority, of course, is to get Car Wars to you. Nothing about the first two priorities should interfere with Car Wars; it's a question of finishing the production and – somehow – getting them shipped to us.
Brand-new games are a fourth priority. We have been busy, and we have some to show you . . . but depending on the pandemic and the needs of the higher priorities, we may release them in 2021, or we may stick with the evergreens for now.
Looking Forward to 2022
With luck and hard work, 2022 will start out on a stronger footing than we saw in 2020 (or so far in 2021). Although it looks unlikely that we'll get back to face-to-face gaming and conventions before late in 2021, everything should (knock on wood) align so that we can return to conventions, in-store gaming, and game nights with our friends in 2022. If all goes well, we'll be here when that happens, and we'll have new things to share the next time we see you at a convention.
1. He's right. -SJ
2. Phil's idea! -SJ
Forum discussion of the Stakeholders' Reports
Other Reports: 2022 • 2021 • 2020 • 2019 • 2018 • 2017 • 2016 • 2015 • 2014 • 2013 • 2012 • 2011 • 2010 • 2009 • 2008 • 2007 • 2006 • 2005 • 2004 • 2003