Report to the Stakeholders for 2022
by Phil Reed
Steve Jackson Games has one stockholder: Steve. But many people have a stake in our success. Our STAKEholders are our employees, our distributors and retailers, and, of course, the people who play our games . . . as well as the freelance artists and designers who create the finished product, the fans who demonstrate our games at conventions and retail stores, and the folks who run game conventions.
Overview
We are, as I assume the reader knows, a publisher of games. We have been in business since 1980. At the end of 2022, we had about 30 full-time staff and contractors, plus a few part-timers. Most of our line consists of card games, boardgames, dice games, and RPGs. We sell through hobby distribution, the mass market, and direct sales; Warehouse 23, our online store, has been online for two decades and now offers both physical products and digital downloads.
2022: Executive Summary
Gross income was a bit north of $4.7 million with strong cash flow. We could have booked a small profit; for tax purposes we dumped some slow-moving inventory and showed a small loss. (Let's see a Fortune 500 company give you a report that explicit, never mind doing it in two sentences.)
We made it through the year, and kept jobs intact, and that was Job One. We're satisfied with that.
2022: The High Points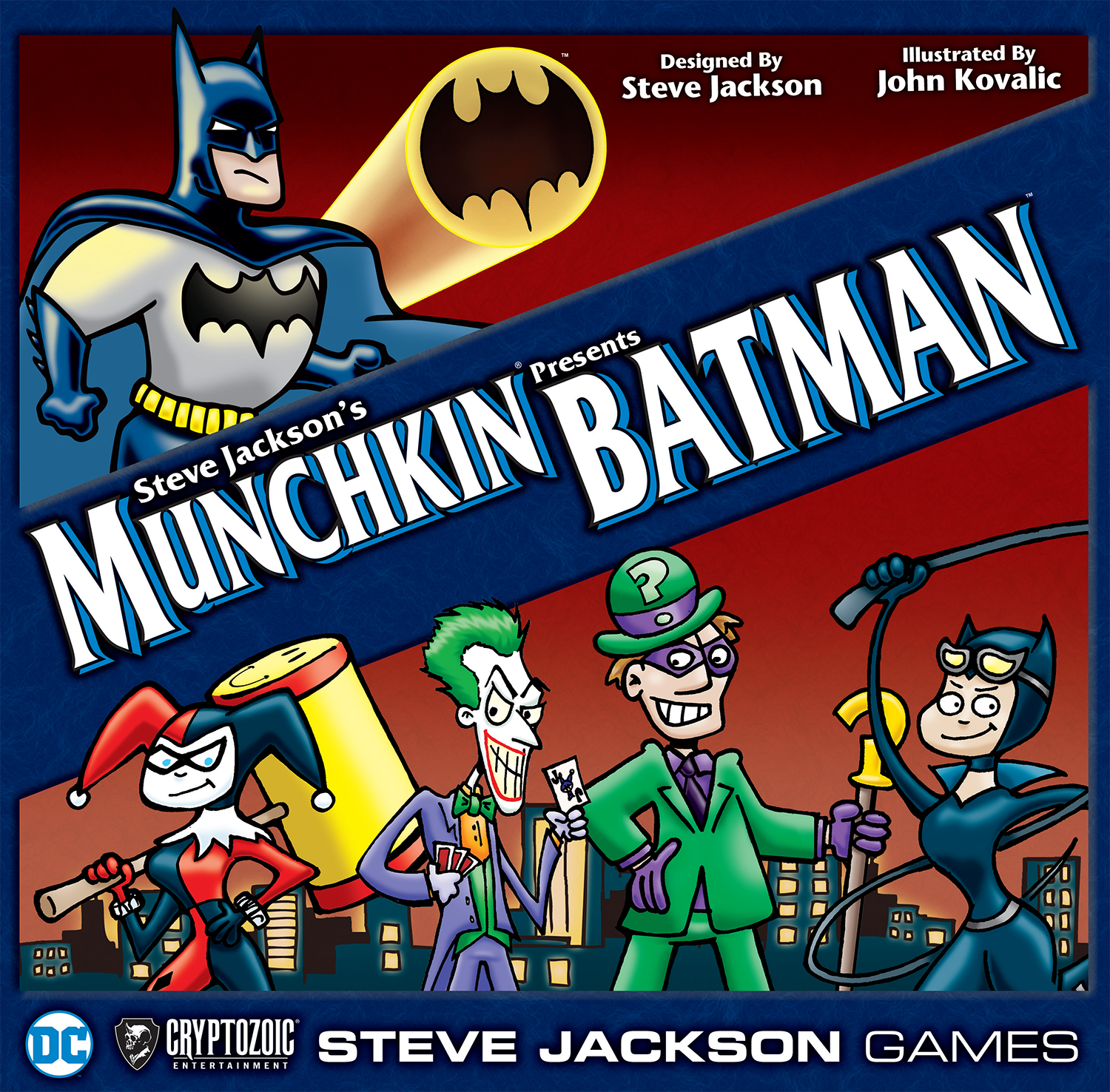 Direct Sales
As distribution sales continue to . . . change? . . . we have explored more direct sales opportunities. There are few things as frustrating as hearing "when does this come out?" when the game in question shipped months ago, so we devoted more energy to growing our direct sales – to gamers and retailers – in 2022. Our new Shopify store went into testing late in the year. We put an awful lot of work into every game, and we want to make sure that you find out about it. We'd love it if you buy it, too, but first you have to find out about it.
Steve Jackson's Munchkin Presents Batman
It took years to carry this one to the finish line, with most of the work happening behind the scenes before we even revealed the existence of the project. Not only did the game reach thousands of Munchkin fans on Kickstarter, we sold through the first run of distribution copies and brought in a second printing earlier this year. If you missed the Kickstarter edition, you can still find copies at our online store, Warehouse 23.
Kickstarter
We had another strong year on Kickstarter, running a lot of large and small campaigns and seeing success in every single one. Kickstarter the marketplace has been good to us, and Kickstarter the corporation has become a valuable partner.
A downside that didn't become apparent until the year was over: Some people saw how much we were using Kickstarter and assumed that we had to do it for cash flow. Nope! We did it because it got a lot of games into the right hands and let us control inventory more effectively. The cash flow was just a lovely bonus.
Other Great Things
CARNage STL Files. Response to this collection of Car Wars Sixth Edition add-on bits was stronger than we expected . . . stronger than we dared hope. The campaign performed well enough that we're working on a second wave of CARNage STLs for a future Kickstarter campaign.

One Roll Chronicles. We shipped Steve's One Roll Quest rules-ultralite RPG in the spring of 2022, and then took an expansion/adventure to Kickstarter, where it did very well. The overall sales were strong enough, and retailer response positive enough, that we released a second edition to distributors. It combines the original game and the adventure into a single box.

GURPS On Demand. As in 2021, we continued to add books to the GURPS digital library and have now been expanding the project to include DriveThruRPG. We have several more books to scan and prepare for print-on-demand release, and we'll do exactly that since it's proven to be popular with players around the world.

Digital Licenses. Both digital Munchkin, from Dire Wolf, and digital Illuminati, from Radiofree.net, went from Seekret Projects to announced, cool-looking games. We have high hopes for these, and for one more that has not been announced, so stay tuned for next year's report.
Ehhhhh . . .
These were places where we wanted a win and didn't quite get one, or where success and failure were mixed.
Warehouse 23/Shopify. Progress was slow and grinding. We didn't finish work on the store in 2022, but we did manage to launch the test site and slowly build everything up while keeping the previous store running. Maybe, with luck, the new store will be a 2023 win.

Knightmare Chess. As part of growing the company's direct sales, we reprinted Knightmare Chess and offered it through our online store, Warehouse 23. The initial sales were meh, at best, but we managed to move over 600 copies in a Kickstarter campaign that was designed to produce a collection of Knightmare Chess variants and articles in a small booklet.
Failures
There were no dramatic failures for us this year, but – as you'll see on the report card below – we didn't enhance the worldwide cause of the Illuminati as much as we would have liked. Just a slow year.
Staff
We got through the year without a round of layoffs, which again is better than your average Fortune 500 megacorp. But we also didn't make any big hiring push. That meant that many people were worked very hard so that everyone could keep their jobs, which is more like a description of a desert island than it is your ideal workplace, but we take what we can get, and we appreciate the effort more than we can say.
State of the Industry
Pundits had predicted 2022 would be a year of shaking out, and we didn't see that, but it was definitely another year of oversupply in publishing and decline in the distribution network, with many good games having a shelf life measured in weeks. Shipping costs dropped, compared to 2021, but printing in China remained more costly and difficult than it was before COVID. Conventions came roaring back. Okay, not roaring. They came putt-putting back, but at least a lot of them happened.
D&D One – The biggest roleplaying news in 2022 was Hasbro's announcement of the next edition of Dungeons & Dragons. The game has been on a significant rise over the last several years, and this new edition marks the first time that many newcomers have faced the possibility of edition wars. Choose a side, if you must, but remember that gaming is a hobby and that new editions do not invalidate your precious editions. Most of all, have fun!

Roll20 and OneBookShelf – This merger was somehow surprising and not at all surprising. Roll20 is a dominant player in the virtual tabletop scene, and watching them officially join forces with OneBookShelf – best known for their DriveThruRPG PDF sales site – has been interesting. It will be a benefit to those players who use Roll20 as the two share resources and, hopefully, make it easier than ever to cross-pollinate your digital RPG libraries.

Kickstarter Is Not Going Away – Campaign after campaign launched in 2022, continuing the trend we've come to expect. How big of an impact does Kickstarter have on the community? Consider this BoardGameGeek list of games that were brought to life through Kickstarter: Over 14,000+ and climbing! (Disclaimer: I joined the Kickstarter Advisory Council in 2022 and have personally benefitted from the site. Steve Jackson Games also uses Kickstarter to fund many projects.)

Golden Age of Boardgames – Despite some individual publishers and conglomerates seeing a drop in sales (such as Asmodee, reported here ), the overall market appears to keep growing. According to The Washington Post, "The global board game market has an estimated value between $11 billion and $13.4 billion and is projected to grow by about 7 to 11 percent within the next 5 years, according to market research companies Technavio and Imarc."
Shared Goals and Partners
The game business is a network, and the healthier it is, the better for all of us. SJ Games continues to value, and rely on, its hobby-industry partners. These include:
the hobby-game retailers, who provide gamers with space to meet each other and play our games;
PSI, our fulfillment agent for most distributor sales;
Surge, our licensing agent, as well as our many licensing partners;
Kickstarter, an important part of our operations and a great way to successfully launch games and accessories that don't exactly match the needs of the larger market;
the many overseas publishers who are translating Munchkin and other games;
the convention organizers who showcase our work and the dedicated hobbyists who serve as Men in Black to demonstrate our games at retail stores and conventions;
GPI, which manages most of our manufacturing;
and the publishers, small and large, who distribute their digital products through Warehouse 23.
Priorities: 2022 Report Card
Here are the priorities we published in last year's stakeholder report, and here's how we think we did on each one.
2022: Our top priority is again survival, which means continuing to promote and support Munchkin Deluxe. This year, that will include a push to release new how-to-play videos – either through our own efforts or working with established content creators – as well as teaching the game to new players. If you run a game club at a school, teach games at your local library, or otherwise introduce games to those ten and up, please contact us at info@sjgames.com. We would like to hear about your experiences and learn from your direct involvement with new gamers.
Well, we survived, and survived intact. That was the goal that counted the most points.
The biggest piece of promotion for Munchkin Deluxe in 2022 was the Watch It Played video.
So far, it has over 58,000 views . . . and we would appreciate it if you would send the link to your friends who have not yet met Munchkin. That was our only substantial marketing of Munchkin Deluxe. The game deserves more attention than it has received in the last year or so.
2022: Our second priority is supporting Car Wars Sixth Edition and The Fantasy Trip. This includes new releases for the existing players and an emphasis on more video play sessions and teaching the games to new players. We plan for Steve to join Hunter for some live plays of The Fantasy Trip this year; he has been 3D printing and painting miniatures for these live sessions and we'll also try to get Steve to run some games at cons when possible.
New releases happened, yes. But neither game received enough promotion. There was convention play, but not enough. Not much was done online. Plans were discussed but not executed.
2022: The third priority for the year is GURPS. Specifically, our GURPS On Demand program. We plan to release more of the back catalog at DriveThruRPG and Amazon and transition some PDF-only titles to print-on-demand.
We released over a dozen more titles as print-on-demand books at both Amazon and DriveThruRPG. We also released color editions of some of the books that were previously only available as B&W POD titles. Success! The team did a great job in keeping the new titles flowing. You can find the complete list of available print-on-demand titles right here.
Priorities for 2023
In early 2023, I stepped down as CEO to give myself more time for my own projects. I will still be working with SJ Games, primarily on art direction and Kickstarters, but our new CEO, Meredith Placko, will take us through the rest of the year. (Read about her here.) Therefore, Steve and Meredith are the ones bringing you these priorities for the upcoming year . . .
First priority: Admit that 2023 is a rebuilding year, and do it right. Help Meredith get comfortable in her new position, and help the staff get comfortable with their new (and, in most cases, enlarged) duties.
Second priority: Give Munchkin the love we promised it last year. That game is what keeps this company afloat, and we'd better not forget it.
Third priority: Get better with the digital tools of 2023 – not just online marketing, but also modern product photography, group communication, virtual tabletops, and the STL files that let hobbyists create their own miniatures.
Confidential unnumbered priority: Announce (maybe at Gen Con!) the Seekret Projekt that we have been working on for the past couple of years!
Forum discussion of the Stakeholders' Reports
Other Reports: 2022 • 2021 • 2020 • 2019 • 2018 • 2017 • 2016 • 2015 • 2014 • 2013 • 2012 • 2011 • 2010 • 2009 • 2008 • 2007 • 2006 • 2005 • 2004 • 2003